Disabled Students Program: 
Ensuring full participation and equal access to all university-related activities for students with disabilities.
To all incoming freshman and transfer students, welcome to UCSB and DSP! The Disabled Students Program is here to help you succeed. Click on the link below to learn how to get started with our program.
Image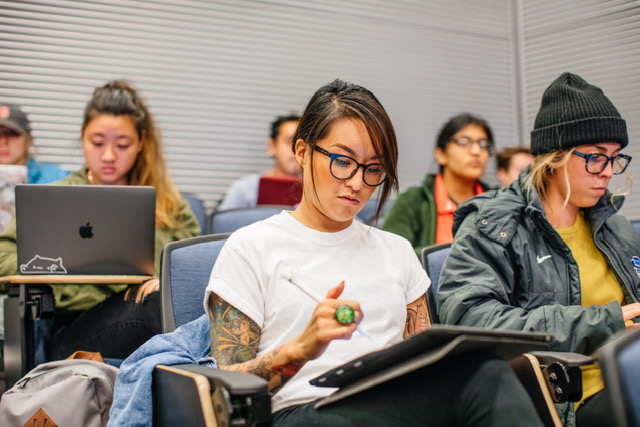 Information We Frequently Share with Incoming Students and Parents:
You must have your UCSBNetID to log into our Services Portal. Please wait until you have this before attempting to register with DSP.

There is no deadline for registering with us, and the process - once documentation is submitted - takes as little as 1-2 weeks. So please don't panic! You have plenty of time over the summer to register with us.

Documentation for incoming students will not be reviewed until the current school year has ended.

DSP does not handle Housing Accommodations. Please see their website for information. 

IEPs and 504 Plans do not transfer to the university level. While you are welcome to upload one as documentation, please know ahead of time that it may not meet UCSB Documentation Guidelines. Your DSP Specialist will let you know if that is the case.

Incoming students sign up for classes after priority registration has taken place for continuing students. New students will receive priority registration for the first time when signing up during Fall for their Winter 2023 classes.

---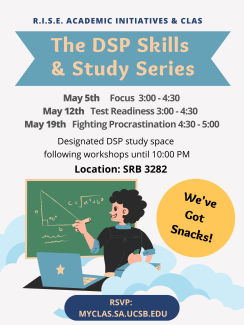 The DSP Skills and Study Series
Brought to you by DSP's R.I.S.E Academic Initiatives and CLAS
 
Workshops:
May 5th, 3 pm - 4:30 pm
Focus                                                                                                     
May 12th, 3 pm - 4:30 pm 
Test Readiness
May 19th, 4:30 pm - 5 pm
Fighting Procrastination
Location: SRB 3282
RSVP: MYCLAS.SA.UCSB.EDU
Designated DSP study space following workshops until 10 pm. We've got snacks!
About The Disabled Students Program
Each year temporarily and permanently disabled students attend classes at the University of California, Santa Barbara. They are attracted by the university's academic reputation, moderate weather conditions, and excellent physical accessibility offered here. The lay of the land is flat and free from environmental barriers and most physical structures are accessible. In addition, the UCSB campus provides excellent barrier free, modified, residential facilities to those students seeking to live on campus.
Providing academic accommodations to students with disabilities is a shared responsibility of the campus. Students with disabilities are responsible for ensuring that the Disabled Students Program (DSP) is aware of their disabilities and for providing DSP with appropriate documentation. DSP is located at 2120 Student Resource Building and serves as the campus liaison regarding academic issues and regulations related to students with disabilities. The DSP staff works in an advisory capacity with a variety of campus departments to ensure that equal access is provided to all disabled students.
Students with disabilities attending UCSB can be assured of receiving the same core support academic services offered throughout the University of California's System-wide chain of campuses.
Image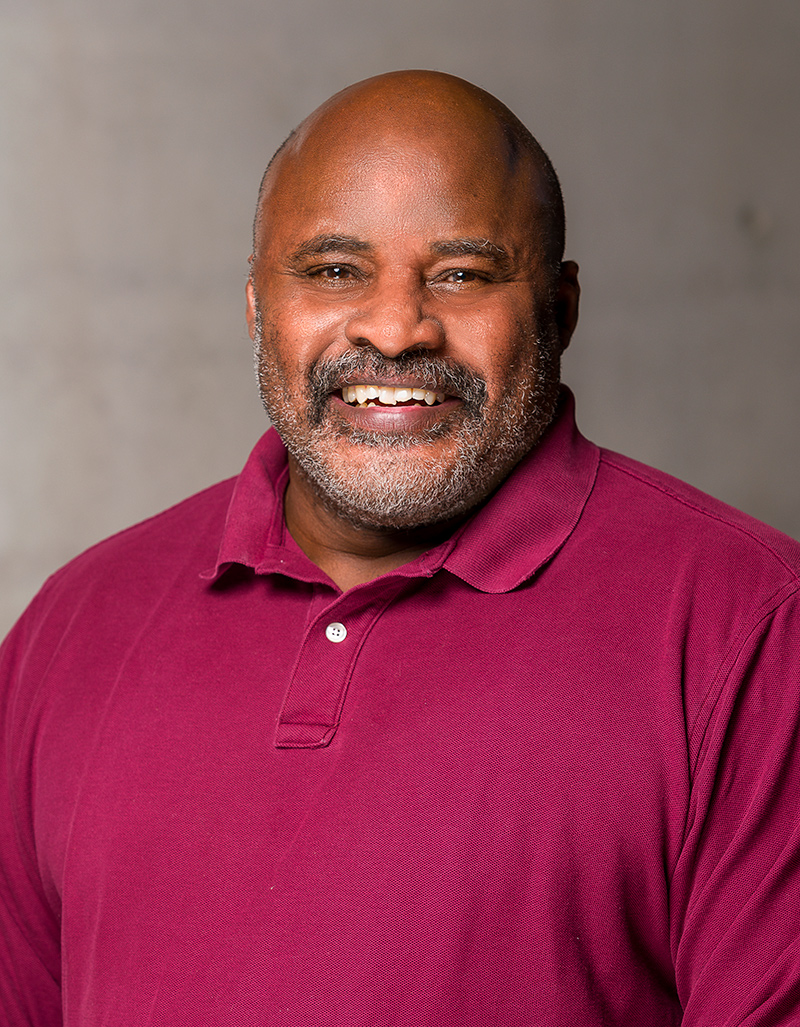 Gary White
DSP Director 
Message from the Director
Welcome to UCSB!
For new and returning students, you have made a great choice to enroll in one of the finest institutions of higher learning in the country. The focus of the Disabled Students Program (DSP)'s mission is to ensure full participation and equal access to all educational activities and classes at UCSB, and to facilitate student success for students with disabilities.
Get involved with CODE
The Commission on Disability Equality (CODE) promotes increased awareness of disabilities, strategies for personal empowerment, a social atmosphere for networking, and a venue for addressing access issues.
Image

Connect with DSP on Nectir
DSP has a Nectir account! Post a question, get a response. It's really that easy.
Ask us about exam accommodations. Ask us about assistive tech support. Ask us what we like on our pizza. Ask us anything!
You can join our Nectir community here.
Image

Connect with students on Discord
Students can join DSP's Discord chat server to find other students in their classes and coordinate study nights or homework help.
You can join our Discord community here.
Image

Image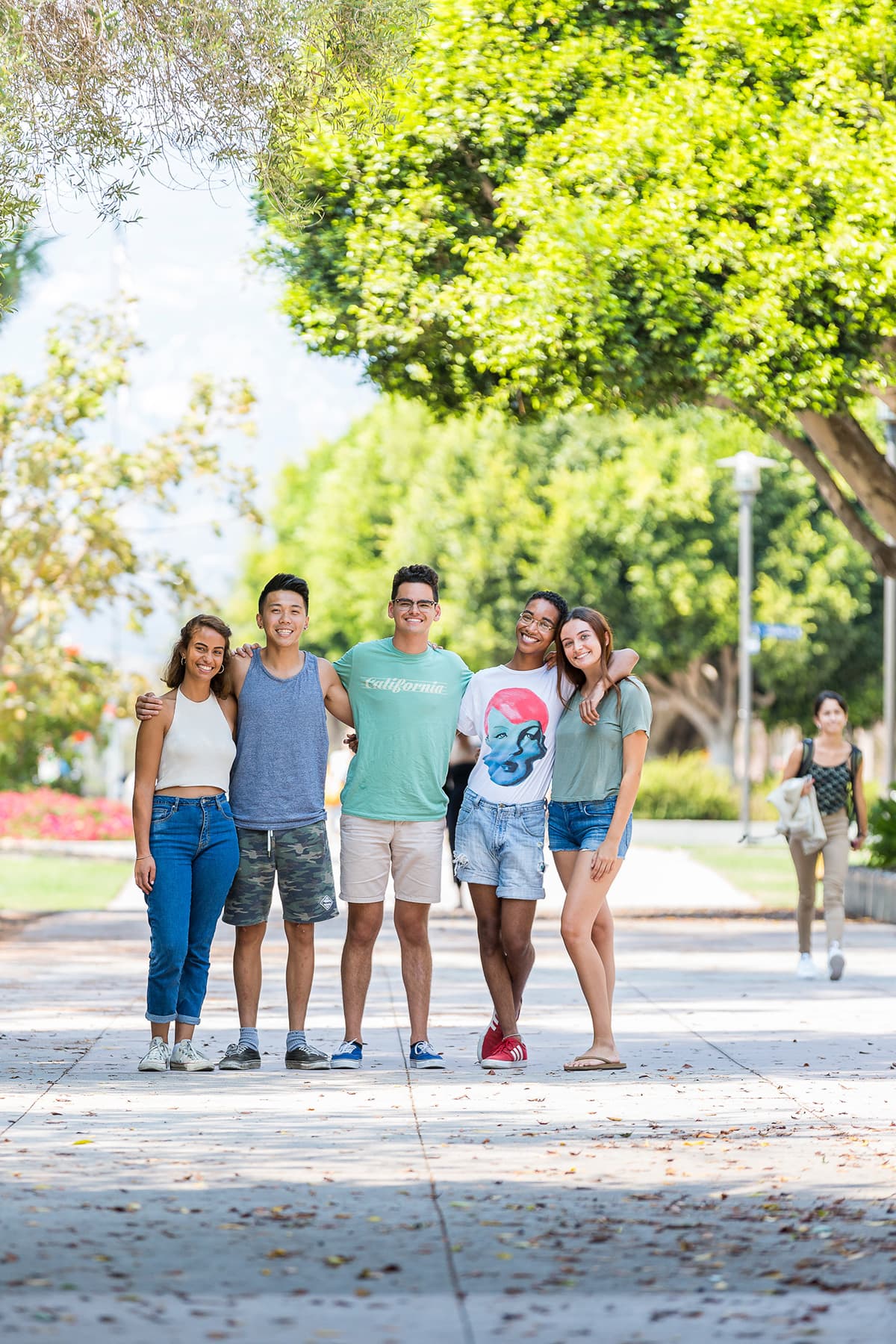 Equity Building Considerations
Dear Campus Community,
At this time we are reaching out to you with concerns in relation to mounting stressors in relation to COVID-19, as well as the undeniable systemic inequalities pervasive in our institutions.
These include, but are not limited to: systems of justice, education & learning, and health-related disparity outcomes, as well as economic disparities that heighten and exacerbate one's ability to engage and have access to support systems that help build community, resilience and enhance outcomes across the systems our students navigate on a daily basis.
We are asking for consideration of the well-being of all of our students in light of the collective challenges which are becoming even more impactful to all students, regardless of disability status.
As such, we are presenting methods and strategies to facilitate building short-term, compassion-based, equity-oriented solutions, as well as long-term considerations for inclusive curriculum design that may not only decrease the need for accommodations but will also work to ensure that all students have access to educational infrastructures as a way of dismantling systemic inequities in higher education.
We respectfully ask for your active engagement and participation in mindfully imagining how we all might improve upon the ways in which we support our students. 
Please consider our suggestions on implementing social justice strategies within the classroom.
In solidarity,
DSP