Image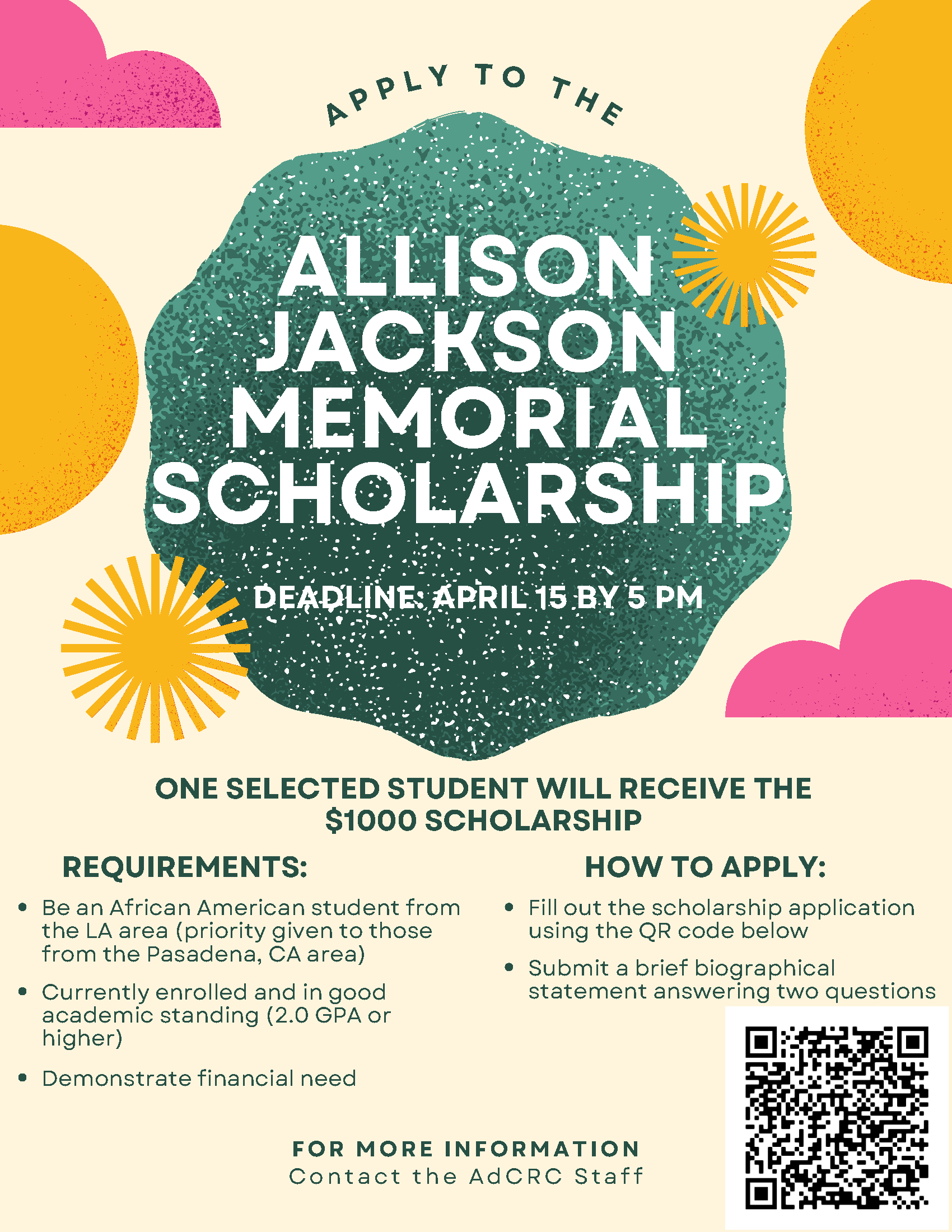 Allison Jackson Memorial Scholarship
Are you currently enrolled at UCSB?
Are you an African American student?
Do you have a 2.0 GPA or higher?
Do you demonstrate financial need?
Are you from the LA area?
If so, then there is a $1000 scholarship opportunity for you - The Allison Jackson Memorial Scholarship.

The Allison Jackson Memorial Scholarship was established by family and friends, in memory of Allison Lilia Jackson, who died in early September 1988, just prior to beginning her undergraduate studies at the University of California, Santa Barbara. As a graduate of John Muir High School in Pasadena, California, Allison was accepted to UCSB for the fall quarter of 1988. Unfortunately, Allison suffered from sickle cell anemia - a condition that made her strong and confident in her outlook on life. The disease claimed her life during her participation in the Educational Opportunity Program (EOP) Summer Transitional Enrichment Program (STEP) just short of her beginning to fulfill her promises and aspirations as a university student.

If you are interesting in applying, please check out the QR code on the accompanying flyer. The deadline is April 15 at 5pm.
ScholarshipUniverse
ScholarshipUniverse is a new platform which is an easy-to-use, personalized hub that makes applying for both UCSB-specific and external scholarships simpler than ever.
Students can access the tool by logging in with their UCSB NetID and password at ucsb.scholarshipuniverse.com.
You can learn more by visiting our ScholarshipUniverse website, where you'll find step-by-step instructions for how to use the tool, an FAQ, and more.
If you have any questions about this new tool,  please feel free to reach out to Jessica Trumble:
Jessica Trumble
Scholarship and Donor Relations Manager
Office of Financial Aid & Scholarships
Email: jbessica.trumble@sa.ucsb.edu
California Association for Postsecondary Education and Disability
Please visit the CAPED scholarship page for further details on eligibility requirements and application procedures. Scholarship opportunities include:
Access Technology Scholarship

 

up to $500
Alyssa McCroskey Memorial Scholarship $1,000
Betty Bacon Memorial Scholarship $1,000
CAPED Excellence Scholarship $1,500
CAPED Memorial Scholarship $1,000
CAPED Veterans Scholarship $500
College Access & Success Scholarship $1000
Counseling and Career Development Scholarship $500
Dick Griffiths Memorial Scholarship $1,000
Susan Bunch Memorial Scholarship $1,000
Steve Fasteau Past Presidents' Scholarship $1,500