CIRM COMPASS – Paid Internship Program for Regenerative Medicine Research at UCSB

The CIRM COMPASS Program is a robust, two-year research internship that aims to train undergraduate scholars in stem cell
biology and engineering, with the goal of preparing the next generation of diverse leaders in regenerative medicine. Areas of
research include stem cell biology, cellular and tissue engineering, regenerative medicine, and gene therapy. The COMPASS
program will span twenty-four (24) consecutive months during the student's junior and senior years.

Stipend & Research Funds Provided by COMPASS
• Trainee Stipend – Up to $18,000 per year (to the student)
• Tuition and Fees – Up to $9,600 (to the institution)
• Research Related Funds – Up to $2,200 for research project costs (to the internship host laboratory)
• Program Related Travel expenses – Up to $1,000

Eligibility Requirements
• Commitment to complete the program requirements within two (2) years
• Ability to dedicate an appropriate amount of time to the internship and program-related activities
o > 10hrs/week/quarter during the academic year
o > 40hrs/week during the summer
• Current UCSB undergraduates or transfer students starting their junior year in good academic standing
• Interest in a career in biotech or regenerative medicine, whether research or clinical application
• Strong interest in project research and readiness to train and succeed in a laboratory setting
• Students from backgrounds historically underrepresented in STEM are especially encouraged to apply. These include but are not limited to: 1st generation college student, veterans, single mothers, amputees, students with disabilities, under-
represented ethnicities, gender preferences, etc.
Program Requirements Once the Student is Accepted:
• Two years (24 consecutive months) of hands-on research in the laboratory
• Completion of required coursework
o Stem Cell Biology – MCDB 146
o Stem Cell Ethics – MCDB 147
o Responsible Conduct of Research – Seminar Course
o Translational Research and Drug Design – Chem 162
o Electives – select from a variety of courses in Oncology, Developmental Biology, Bioengineering, Computational Biology, and
Quantitative Biology
• Participation in professional growth and development workshops
• Present a formal lecture to finalize the trainee's Capstone Project in the spring quarter of senior year
• Present status updates of research project during the quarterly COMPASS Conferences
• Participation in Patient, Healthcare, & Community Engagement and Outreach Activities
• Engage in regular meetings with a team of mentors from academia and industry
• Participation in science communication activities through UCSB

Application Materials
• An application form
• CV
• Two (2) letters of recommendation on letterhead (submitted confidentially)
o See the COMPASS Application Form regarding topics that the recommender should address
• Submit all application materials by 11:59pm August 27, 2023 to Dr. Britney Pennington at bop@ucsb.edu with the email
subject heading: "COMPASS 2023 Application – <applicant's full name>". Candidates will be notified by September 15, and
they will begin the COMPASS program remotely on September 18, and in-person on September 25, 2023.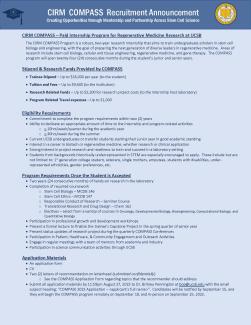 Image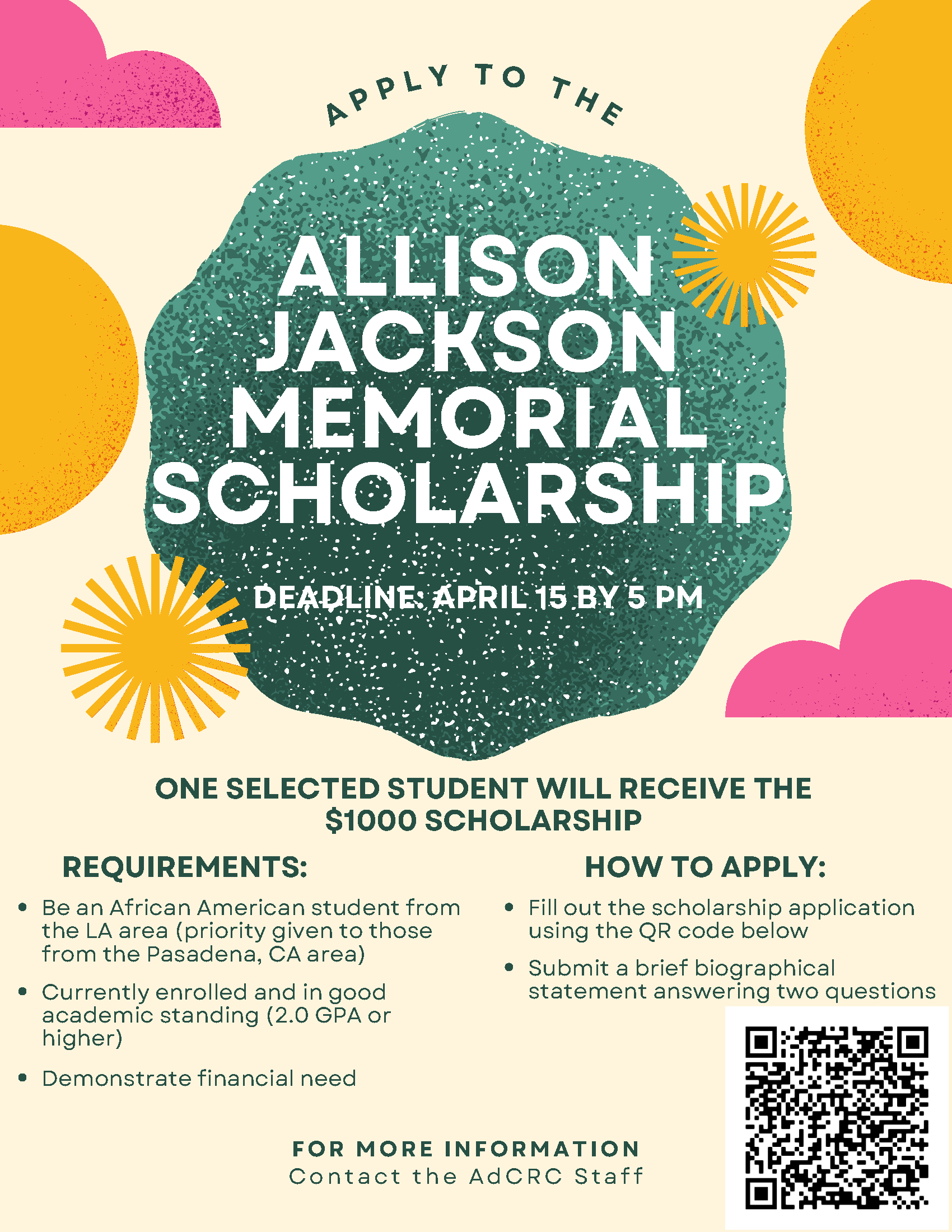 Allison Jackson Memorial Scholarship
Are you currently enrolled at UCSB?
Are you an African American student?
Do you have a 2.0 GPA or higher?
Do you demonstrate financial need?
Are you from the LA area?
If so, then there is a $1000 scholarship opportunity for you - The Allison Jackson Memorial Scholarship.

The Allison Jackson Memorial Scholarship was established by family and friends, in memory of Allison Lilia Jackson, who died in early September 1988, just prior to beginning her undergraduate studies at the University of California, Santa Barbara. As a graduate of John Muir High School in Pasadena, California, Allison was accepted to UCSB for the fall quarter of 1988. Unfortunately, Allison suffered from sickle cell anemia - a condition that made her strong and confident in her outlook on life. The disease claimed her life during her participation in the Educational Opportunity Program (EOP) Summer Transitional Enrichment Program (STEP) just short of her beginning to fulfill her promises and aspirations as a university student.

If you are interesting in applying, please check out the QR code on the accompanying flyer. The deadline is April 15 at 5pm.
ScholarshipUniverse
ScholarshipUniverse is a new platform which is an easy-to-use, personalized hub that makes applying for both UCSB-specific and external scholarships simpler than ever.
Students can access the tool by logging in with their UCSB NetID and password at ucsb.scholarshipuniverse.com.
You can learn more by visiting our ScholarshipUniverse website, where you'll find step-by-step instructions for how to use the tool, an FAQ, and more.
If you have any questions about this new tool,  please feel free to reach out to Jessica Trumble:
Jessica Trumble
Scholarship and Donor Relations Manager
Office of Financial Aid & Scholarships
Email: jbessica.trumble@sa.ucsb.edu
California Association for Postsecondary Education and Disability
Please visit the CAPED scholarship page for further details on eligibility requirements and application procedures. Scholarship opportunities include:
Access Technology Scholarship

 

up to $500
Alyssa McCroskey Memorial Scholarship $1,000
Betty Bacon Memorial Scholarship $1,000
CAPED Excellence Scholarship $1,500
CAPED Memorial Scholarship $1,000
CAPED Veterans Scholarship $500
College Access & Success Scholarship $1000
Counseling and Career Development Scholarship $500
Dick Griffiths Memorial Scholarship $1,000
Susan Bunch Memorial Scholarship $1,000
Steve Fasteau Past Presidents' Scholarship $1,500