Image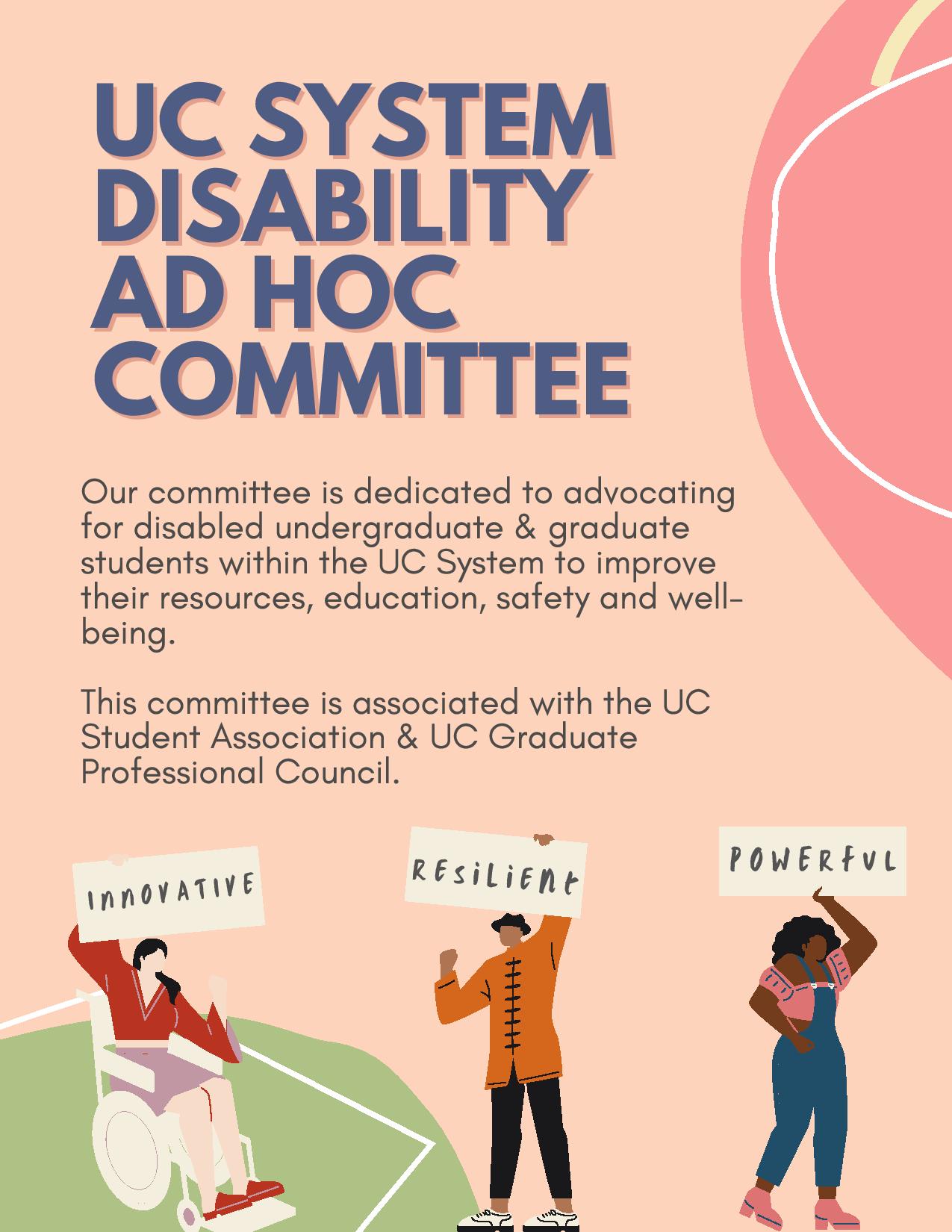 UC SYSTEM DISABILITY AD HOC COMMITTEE 
Our committee is dedicated to advocating for disabled undergraduate & graduate students within the UC System to improve their resources, education, safety and well being. 
This committee is associated with the UC Student Association & UC Graduate Professional Council.
Image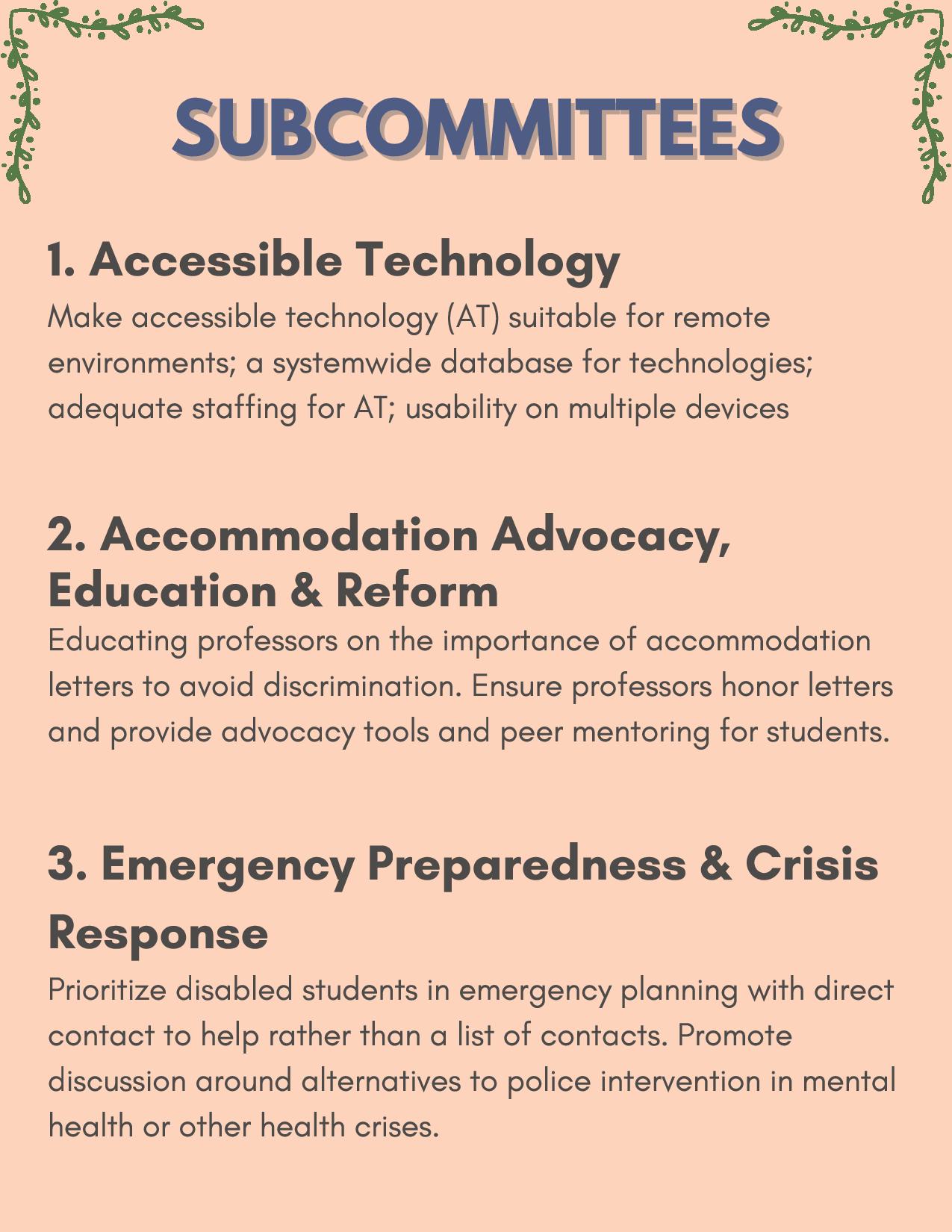 SUBCOMMITTEES 
1. Accessible Technology: Make accessible technology (AT) suitable for remote environments; a systemwide database for technologies; adequate staffing for AT; usability on multiple devices.
Meets: Once a month, likely to start over winter, Discord Channel

2. Accommodation Advocacy, Education & Reform: Educating professors on the importance of accommodation letters to avoid discrimination. Ensure professors honor letters and provide advocacy tools and peer mentoring for students.
Meets: Infrequently, every 2-3 weeks, GroupMe

3. Emergency Preparedness & Crisis Response: Prioritize disabled students in emergency planning with direct contact to help rather than a list of contacts. Promote discussion around alternatives to police intervention in mental health or other health crises.
Meets: Once per month, 11am, the 2nd Friday of every month
Image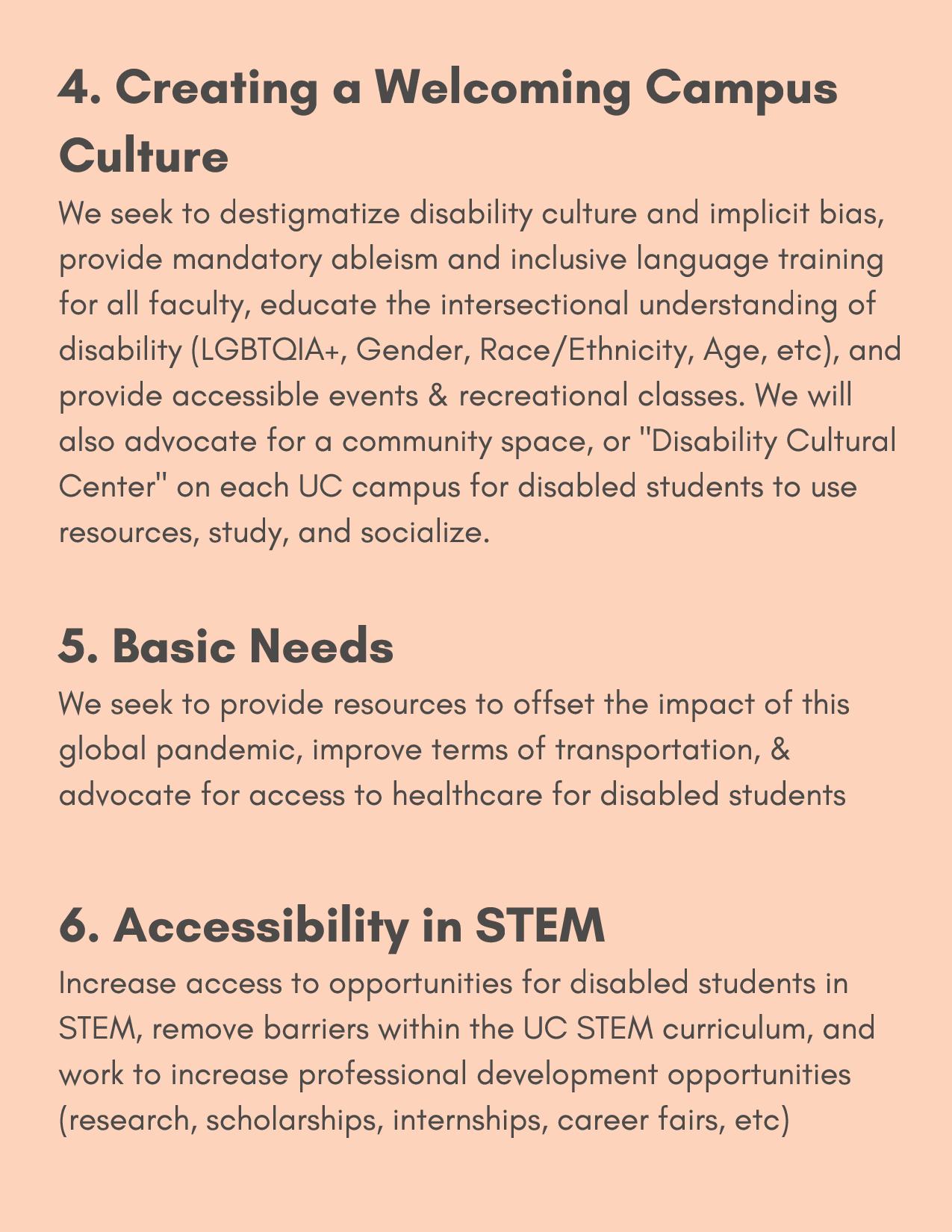 4. Creating a Welcoming Campus Culture: We seek to destigmatize disability culture and implicit bias, provide mandatory ableism and inclusive language training for all faculty, educate the intersectional understanding of disability (LGBTQIA+, Gender, Race/Ethnicity, Age, etc), and provide accessible events & recreational classes. We will also advocate for a community space, or "Disability Cultural Center," on each UC campus for disabled students to use resources, study, and socialize.
Meets: Twice a month, Time: TBA (WhenIsGood pending), Discord Channel 
5. Basic Needs: We seek to provide resources to offset the impact of this global pandemic, improve terms of transportation, & advocate for access to healthcare for disabled students
Meets: Frequency TBA

6. Accessibility in STEM: Increase access to opportunities for disabled students in STEM, remove barriers within the UC STEM curriculum, and work to increase professional development opportunities (research, scholarships, internships, career fairs, etc)
Meets: Text, no frequency or time decided, When2Meet pending, more frequent in beginning to less frequently. Please email us (with "Accessibility in STEM" in the title) with any questions or concerns.
JOIN US!

Want to join our committee? Please click the link below and fill out our google form!
Each of our subcommittees has a leader and once you complete our form, the leader(s) of the subcommittee(s) you chose will contact you via email. 
If you have any questions, email our co-presidents snolan@ucsd.edu or suavpa@ucsc.edu